Kindle/Amazon Purchase Issues and Refunds.
Contents
Unauthorized Purchases/Refunds
Purchase Not Received
I purchased items in DragonVale but I haven't received them yet!
We're very sorry to hear that your purchase hasn't arrived! Sometimes purchases do not process correctly due to server connection issues and are not delivered in a timely manner, or at all. We apologize for this inconvenience and would be more than happy to get the missing items added to your game.
Please send us an email (support@decagames.com) or submit a support request using the link at the top of this page. When you send your email, please include these 2 things:
1. A copy of your Amazon receipt reflecting the missing purchase.
2. Your DragonVale park information. Please see below for more details on what information to include.
1. Sending Your Receipt
You can take a screenshot of the receipt or copy and paste the information from the email that was sent to you after making the purchase, but we do need this information in order to credit the purchase. Whichever method you choose, please be sure it includes the date, order number, and the item purchased i.e., "Sack of Gems".
2. Information We Will Need to Find Your Park
If your park is connected to Facebook, please provide your full first and last name as it appears on your Facebook profile page, as well as your current park level.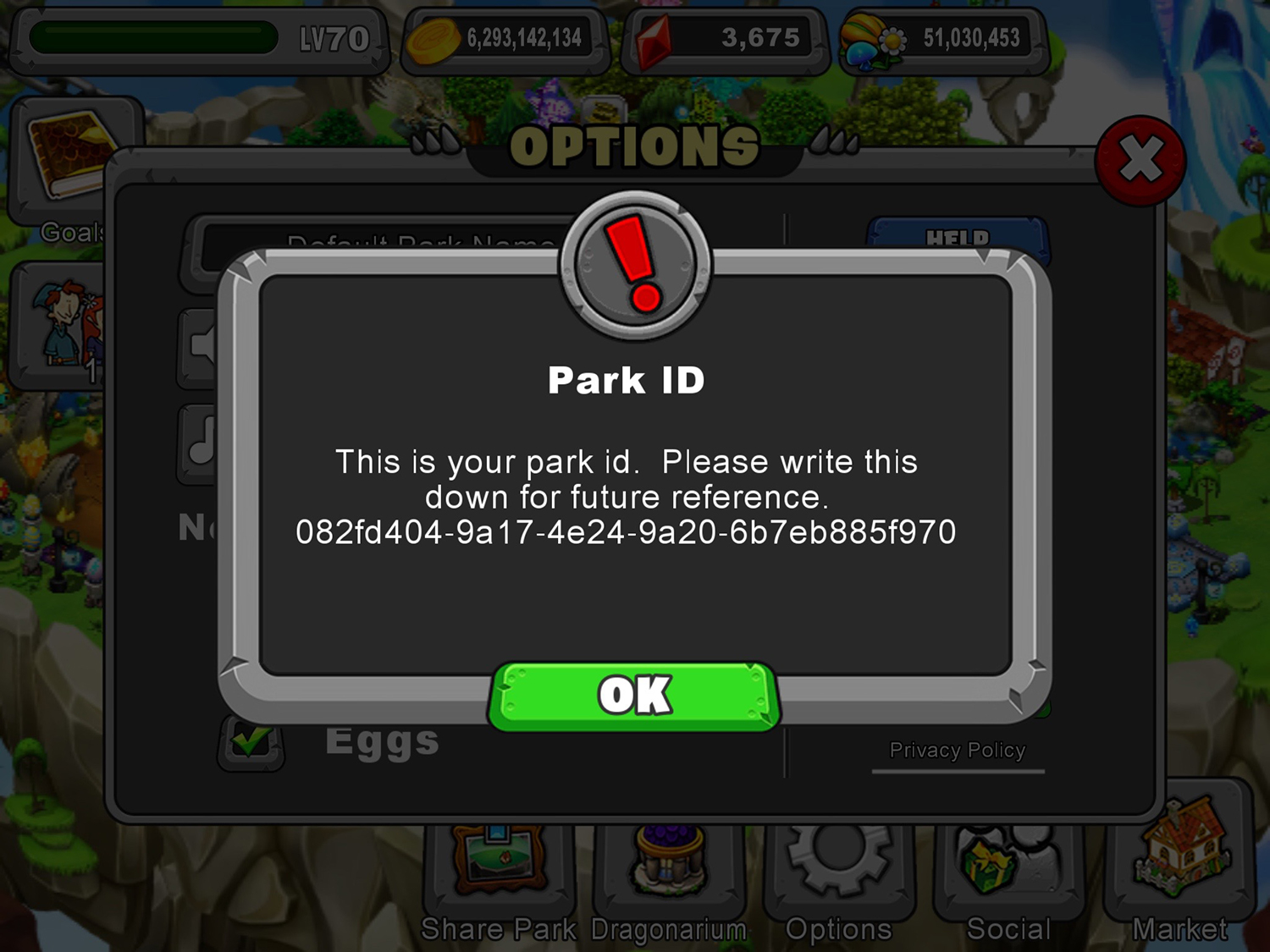 If your park is not connected to Facebook, please respond with your local park ID. You can find your park ID by tapping the "Options" icon, then tapping the "Park ID" button. Please copy this number exactly and be sure to include the hyphens, or send a screenshot of it if you would prefer.
What to Expect After Contacting Us
We'll follow up with you as soon as we're able and get your purchases added to your park. For future purchases, please make sure that you are strongly connected to WiFi/3G/4G as this is usually the cause of most purchases not being transmitted. Thanks very much for your patience.
Unauthorized Purchases/Refunds
Someone made an unauthorized purchase on my account and I would like a refund. What should I do?
Unfortunately, we don't have the ability to provide a refund directly as all billing is handled by Amazon. Amazon's policy is that refunds are not available for digital goods. If a user has a valid reason for a refund they should contact Amazon customer service by following the steps provided below.
Click this link:

https://www.amazon.com/gp/help/contact-us/general-questions.html

Sign in with the Amazon account associated with the purchases in question.

Under section 1, "What can we help you with", select "Digital Services".

Under section 2, first select "Appstore Games and Apps" from the first drop down, then select the appropriate category from the second drop down.

Under section 3, select which contact method you prefer for an Amazon Customer Support Representative to get back to you.
Please Note: We have absolutely no record of billing or account information and you MUST get in touch with Amazon using the outlined process above in order to be considered for a refund.
Restricting In-App Purchases
To set up a PIN for purchases via the Amazon Appstore:
Open the Amazon Appstore app
Press Menu and then touch Settings
Touch Parental Controls
Select Enable Parental Controls
Enter your Amazon.com password
If you want to use a PIN instead of your Amazon.com password for in-app purchases authorization, check the box for "Use PIN"
Enter a PIN code
Re-enter your PIN to confirm
Note: These instructions may vary depending on which Kindle device you are using and what operating system is installed.
Unable to Make Purchases
I am unable to make purchases in DragonVale.
If you are unable to make a purchase in the game, please check that your device has been enabled to make in-app purchases. Please note that these instructions may vary depending on the specific model of your device.
Open the Amazon Appstore app

Open the menu, then tap "settings"

Clear the checkbox next to "In-App Purchasing"
Next, make sure your billing account information in Google Play is up to date.
Visit

amazon.com

Click on "My Account"

Scroll down to "Digital Content" and click on "Manage Your Content and Devices"

Click the "Settings" tab and ensure your payment information is up to date
Also, please ensure you have the correct date/time settings on your device.
Swipe down from the top of the screen and tap "Settings"

Tap "Device Options", then select "Date & Time"

Ensure that the Time Zone/Time and Date are correct and set to automatic
Verify you have a strong signal during the purchase attempt.
If your settings are correct and you are still having issues, it may be caused by poor connectivity during the purchase attempt. Please make sure your device is connected to a strong wifi or mobile data connection (Verizon, AT&T, Sprint, etc.).
I've tried all the steps above, but I am still unable to make a purchase.
If you have checked your settings and connection and are still having trouble, please contact Amazon Support for assistance with your Amazon account.
DIDN'T FIND WHAT YOU NEED?
We're here to assist you! Submit a ticket and we'll get back to you as soon as possible.