Subscriptions: What subscriptions are present in G&G? How do I manage them?.
Subscription is a service which allows access to the certain unactivated data and commands (content and bonuses) until the subscription runs out.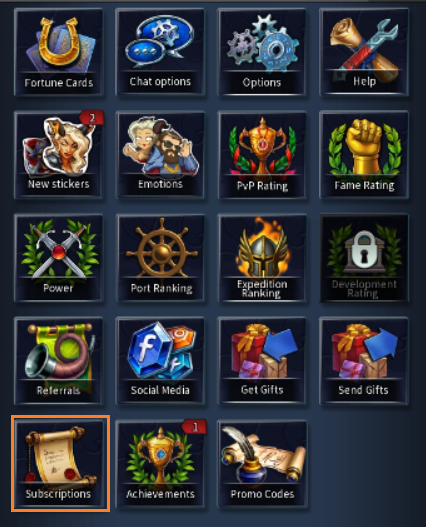 Unlike purchases in the bank, payments for subscriptions on iOS and Android will be deducted monthly until you unsubscribe.
Gods&Glory has two types of subscription.
Sovereign (individual subscription)
Permanent "City of Kings" city skin
Permanent "Royal

Gryphon" Mount with 5 Amulet Slots

+ 100% to amount of experience earned in battle

+3 to number of help requests at the Port

+1 tablet obtained in the Port

+2 additional lockpick among daily prizes

+2 extra free turnover of a Fortune card

+100 extra VIP points for daily logins

VIP points are not reset when a day is skipped

+2 to max number of marches

+35% to unit recruitment speed

+200% battle animation speed up

House's capacity +15%

Legendary mystery rune x1

Rare mystery rune x5

Common mysterious runes х15

500 000 experience points x2

Divine Shield for 8h. x3

Disguise for 8h. x3

March acceleration +80% for 1h. x3

Potion of Attack +80% for 1h х2

Potion of Defense +80% for 1h х2

New Personal Edicts х5

Celestial Aether

Valor Production +50% for 30d

Stardust Production +30% for 30d.
Alliance support (alliance subscription)
Unique items in the alliance's store every 7 days

+5% to construction speed and structure upgrade speed

+5% to research speed in University

+10% to recruitment speed

+10% to item crafting speed

+50% to bonus alliance points for purchases, ships sent and prayers

-25% to resource transfer tax in the Embassy

+1000% to Watchtower influence points

Acceleration: 3h

Acceleration: 1min x30

March acceleration +50% x3

Acceleration: 30min

Rare Material Chest x2

Camp Radius x2

Potion of Defense +10% for 1h

Banner x2

Disguise for 3h x2

Stardust production +30% for 8h

50 000 experience points x10

5 000 valor points x2

Stickers х10
To cancel your subscription on iOS, please follow the following manual: Support Apple
To cancel your subscription on Android, please follow the following manual: Support Google
DIDN'T FIND WHAT YOU NEED?
We're here to assist you! Submit a ticket and we'll get back to you as soon as possible.