Arena League FAQ.
1. Event entrance
Entrance: Event icon, Information Board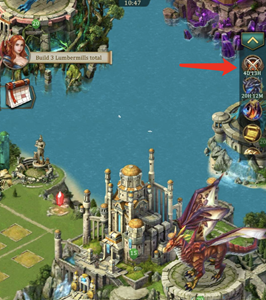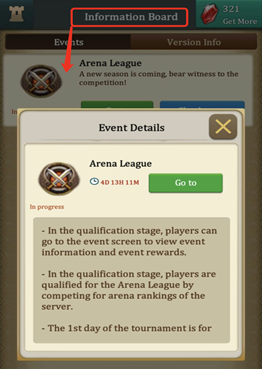 2. Event process
(1) Overview
The event is divided into two parts: the single-realm solo Arena qualifiers and the cross-realm solo Arena tournament, which take the form of automatic combat.
The Arena League lasts 7 days, with 2 days of single-realm qualifiers and 5 days of cross-realm tournament.
Realms are divided into groups by design. Qualified players from each group will advance to the next stage, cross-realm tournament, where they will compete for the league champion by going through a group stage and a knockout stage.
(2) Qualifiers
Duration: 2 days
Realm Limit: Local
Group rules: Realms will be randomly grouped together. The winners in each realm will advance to cross-realm tournament after the qualifiers are over.
(3) Tournament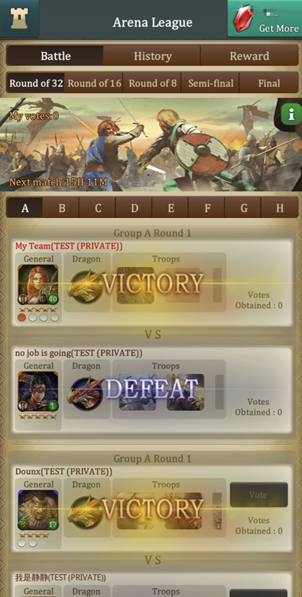 Duration: 5 days. Each day features a round, from the round of 32, round of 16, round of 8 all the way to the grand final.
Match start time: The first set of matches will start simultaneously as per event configuration.
Match interval: 50 minutes per set during the round of 32.
3. Battle rules
Combat mode: The same as Arena, auto combat is used with no actual loss.
Battle duration: Each match is 10 minutes long, and the panel shows the corresponding countdown.
Initial lineups: The contestants' initial lineups are based on their Arena lineups in their own realms.
Lineups configuration: You can change your lineup before the match starts. Your Generals, dragons, and troops in the match are copied from your own realm, yet they are mutually independent.
Match-to-match lineups: You can have different lineups for all 3 sets of matches during the round of 32..
Inherited lineups: If the lineup for the upcoming match is not changed, the lineup configuration from the previous match will be used.
Line-up restrictions: The lineup for this match cannot be replaced during the battle, and the lineup configuration cannot be replaced for the match that has finished.
4. Prediction rules
(1) Prediction rules
All players can predict the result of each match in the Arena League.
Of course, you can only predict the results of incoming matches.
You can only predict one winner for each match.
Contestants are not allowed to predict their own match.
(2) Prediction method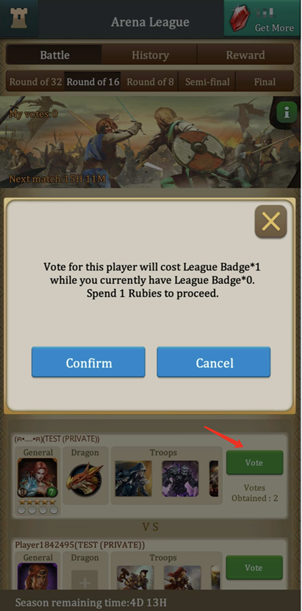 Item for Prediction: You must make prediction using League Badges, which may be available from other events, also purchasable with 1 ruby each.
Prediction method: Go to Match, tap Vote on the match list at the cost of 1 League Badges.
Change your vote: In a single match, switching the vote you have cast doesn't cost additional League Badges.
4. About Rewards
(1) Ranking Rewards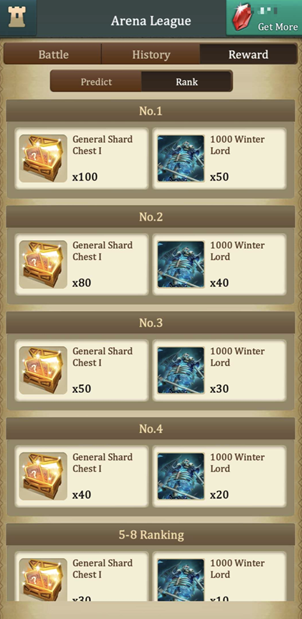 Ranking rewards: At the end of the event, players will be rewarded according to their ranking.
Issuing rewards: Rewards are sent to your inventory with an in-game mail notification.
Ranking scales: 1st ~ 32nd in each group
(2) Prediction rewards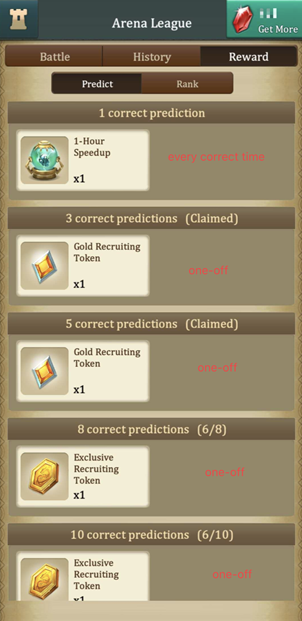 Single prediction: After voting for a player in a match, if the player wins at the end of the match, the voter will be rewarded immediately and this will count towards the voter's successful prediction meter. (Can be claimed repeatedly)
Cumulative prediction: Cumulative successful predictions will grant you multiple tiers of rewards (only once per tier).
Issuing rewards: Rewards are sent to your inventory with an in-game mail notification after the match you voted in has ended.
DIDN'T FIND WHAT YOU NEED?
We're here to assist you! Submit a ticket and we'll get back to you as soon as possible.