Grail Knight: VIP system.
Grail Knight (VIP) is a system that rewards players for their gameplay.

Every player starts with a few free trial tokens, each one valid for one day of VIP. Please note that this trial package is only rewarded once per account; and that players on multiple Realms will not receive a trial token on every Realm. You can use the items or keep them in your inventory.

You can collect more 1 Day of Grail Knights tokens by questing, battling in the Arena or in special Events. You can only stack up to 10 tokens in your inventory. If the number is exceeded, each new token will be exchanged for 1000 Charms automatically.

Check this and other Rules by going to your Grail Knight tab, tapping on Info, and selecting "Rules".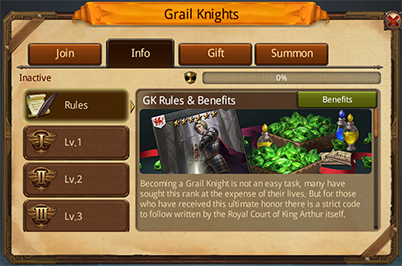 You can find more information about the Grail Knight and answers to FAQs in [this] forum thread.


How do activate my Grail Knight
You can become a Grail Knight by using a 1 Day of Grail Knights item, but also by activating 1 to 6 month packages. You can find the subscriptions in the Grail Knights tab, at the following Gem prices:

1-month Grail Knight - 140 Gems
3-month Grail Knight - 350 Gems
6-month Grail Knight - 630 Gems
DIDN'T FIND WHAT YOU NEED?
We're here to assist you! Submit a ticket and we'll get back to you as soon as possible.