How to train your Dragon.
Train your dragons up to 5 times a day in the dragon cave for extra experience and gold.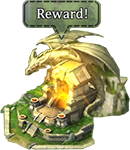 You will be able to unlock up to 5 caverns for training:

1: Automatically unlocked
2: Unlocked at level 15
3: Unlocked at level 30
4: Get this cavern by purchasing more than 50 rubies through the dragon training slot
5: Purchase this cavern with 200 rubies.

Train your dragons in your available caverns, by going to your dragon cave and selecting a dragon to train.
DIDN'T FIND WHAT YOU NEED?
We're here to assist you! Submit a ticket and we'll get back to you as soon as possible.