New Players: Beginner's Protection.
The Beginner's Protection will last 7 days. You will not be able to pause the countdown after it starts, even if you do not access the game within that timeframe.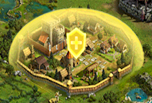 If you upgrade your Keep to Level 5 or Attack a Player within the first seven days, your Protection will break. However, attacking a Wild will not break your Protection.
DIDN'T FIND WHAT YOU NEED?
We're here to assist you! Submit a ticket and we'll get back to you as soon as possible.